You've got it, we flaunt it.
Let's start with our passion.
CONTUR is a premium activewear brand designed for bold women who aren't afraid to break the mould and live their life at full speed, in and outside the gym.
We're passionate about empowering women to enhance their natural shape, turn heads and feel unapologetically free in their own body. You've already got it. We just help you flaunt it.
Oh, did we mention we're a proud British brand that champions our local textile industry? Every item you find on this site is produced from our London site at the hand of skilled designers and seamstresses, and that's the way it's always going to be.
Certain aspects of fast fashion are causing real harm to our planet. That goes against everything we stand for, which is why we've made it our mission to fight this culture and set a new standard for contemporary activewear.
This starts by giving people a real choice in what they buy and a chance to support sustainable causes. With CONTUR, you can always be sure exactly who made your clothes, what they're made of and why they're different.
The fact our full range is carefully crafted by our team in London doesn't just help drive the local economy, it also keeps our carbon footprint the lowest it can possibly be.
Did you know that more than 640,000 tonnes of fishing nets and plastic waste are discarded in our seas every single year? This waste can last centuries in the ocean, entangling marine life and destroying entire ecosystems.
Mother Nature deserves better, so we decided to do something about it. Our choice of fabric – ECONYL® – is made by recovering and repurposing old fishing nets and ocean plastics into a 100% recycled yarn that's perfect for high-performance activewear. It's flexible, well-supported and conforms naturally to any body shape.
We then make sure every item in our collection is just as stylish as it is squat-proof. Our sleek patterns and vivid colourways are designed to make a statement, whether you're running, spinning, lifting, hot yoga-ing or just busy being an everyday badass.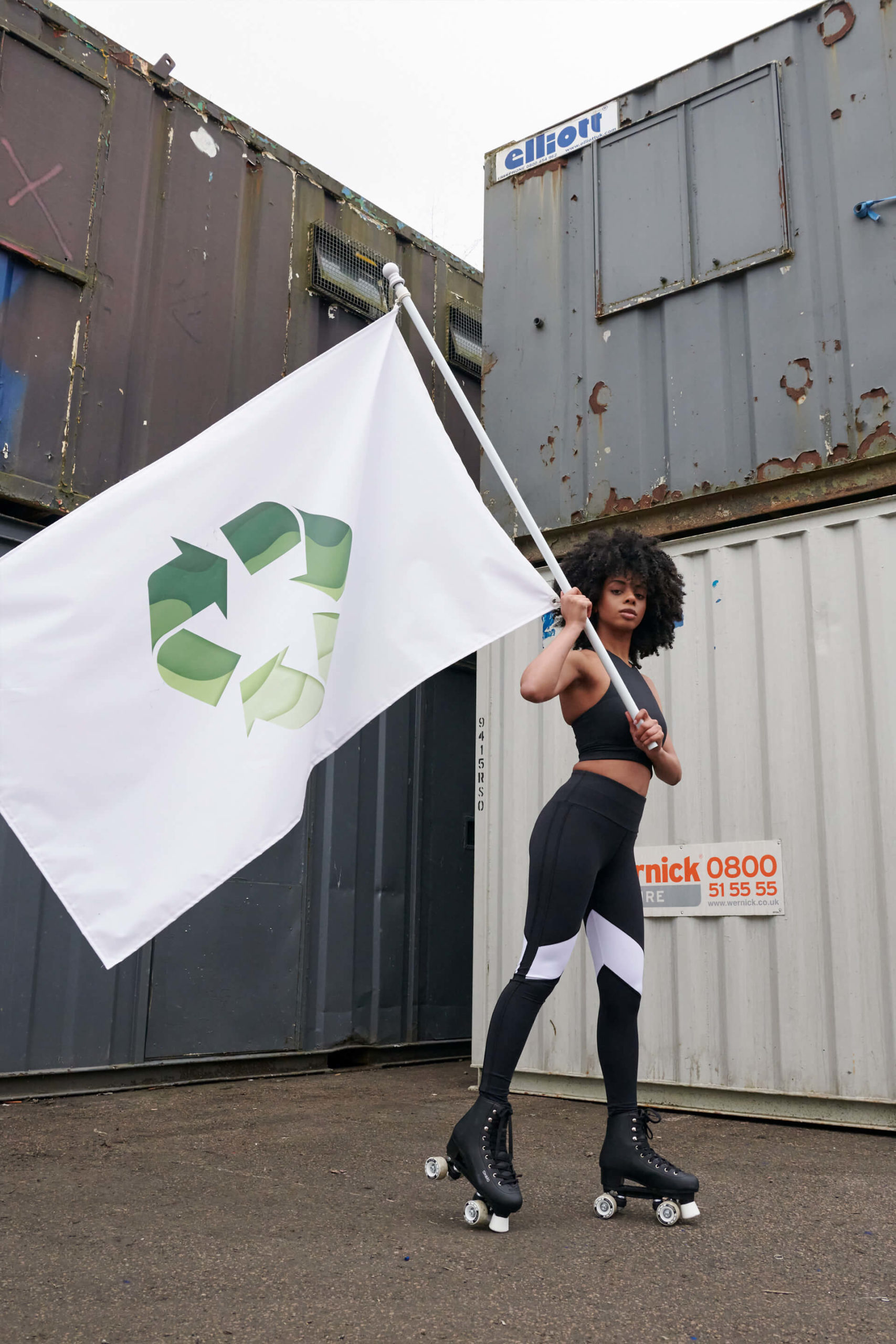 Time to shape the future.
There's no going back now. We're keeping on the path to supercharge female self-confidence, minimise waste and do our bit for a better world – and we'd love you to join us.
Maybe you haven't found the right fit for your curves, or the right support for your gym work. Or, it could be you're only just starting to think seriously about sustainability and how your everyday choices can make a real difference.
If so, don't be afraid to shake things up. Remember it's the bold decisions we make today that shape how we look, feel and think tomorrow.
want to know more?
Dive straight into our latest eco-friendly collection.